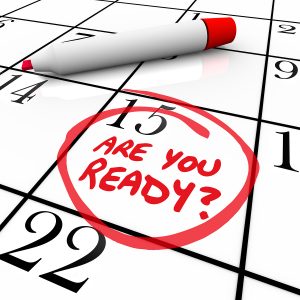 Do you find yourself biting your nails while wondering, "Am I really ready for this exam?!" Don't worry; this feeling of trepidation is extremely common and it makes complete sense to feel this way! You've been committed to studying hard for a significant amount of time and the anticipation of finally taking the exam can feel overwhelming. In this month's blog, we're going to explore the unique emotions that may arise as your test date nears and identify some test anxiety tips to manage them.
What are some common concerns?
Anxiety is a powerful emotion that can play tricks on the mind. As a coach for many years now, I've spoken with a large number of people within days of taking their exams. Based on these conversation, I've observed some common concerns that seem unique to those with impending exam dates. Following is a list of frequently asked questions I receive in the days leading up to test-takers' exams. Take a few minutes to see if any of these resonate with you:
I'm not sure I've studied enough, should I be doing more?
Am I really ready?
What if I forget everything I've studied when I walk into the exam room?
Should I postpone my exam date so I can study more and take additional mocks?
Should I review the entire program one or two more times this week?
Should I take the week off and study non-stop?
These are just some of the questions that arise prior to exam day and the underlying reason for these questions is usually anticipatory anxiety. It's important to consider these questions and develop an understanding of what is behind them before acting on them.
Gaining Insight
If you've followed your study plan, it is more likely than not that you are fully prepared for your exam and will successfully complete it. And, if this is the case, but you are still asking the questions above, they are likely a consequence of increased anxiety. So let's do an activity to help you understand this better.
Take a piece of paper and create four columns (you can do this on your own or with a friend/colleague/family member). In the first column, write down the questions or feelings of self-doubt you are experiencing. In the second column, consider what is causing you to ask this question or experience this feeling. In the third column, and this is where a friend could be helpful, identify alternative/healthier thoughts. And, finally, in the fourth column, identify healthy activities that will allow you to address your concern and reinforce what you wrote down in column three.
See below as an example.
| | | | |
| --- | --- | --- | --- |
| Question/Concern | Underlying Thoughts | Alternative/Healthier Thought | Healthy Activities |
|   | I am scared to fail | I successfully completed the exam plan | Review my accomplishments |
| Should I postpone the exam? (I'm not sure I'm ready.) | I've heard some people study for a year | I've done well on my mocks | Engage in self-care |
|   |   | I've addressed concerns with a TDC coach | Spend time with friends and family who support me |
|   |   | Most people complete the program in the same time frame that I studied | Reach out to a TDC coach to discuss my concerns |
Test Anxiety Tips
Hopefully, over the course of your studies, you've developed and integrated self-care and anxiety management strategies into your study plan. During the final week of your studies keep it up! The final week should be a continuation of your studies; there is no need to do anything differently. And, if for whatever reason you did not have an opportunity to build these practices yet, that's okay, you still have an opportunity to integrate self-care and anxiety management into your schedule. We've written several blogs (https://www.therapistdevelopmentcenter.com/blog/category/anxiety-management/) that offer strategies and techniques to help temper anxiety, and it's never too late to use them!
If you have any questions or concerns about your exam readiness, your TDC coaches are available to provide guidance and assurances. Again, if you've completed the study plan, you are ready to PASS WITH CONFIDENCE!
Of course, one of the best strategies to manage your test anxiety is to start with a program that provides you with direction, a clear starting and stopping point, and helps you feel adequately prepared for your exam. And that is where we come in. Learn all you need to know for your LMFT or LCSW exams by signing up for one of TDC's exam prep program to help you prepare for your exams today! Amanda Rowan has helped thousands of therapists and social workers pass their licensing exams. Are you our next success story?
Comments
Commenter Name
May 22, 2018
I took the exam failed and but afraid to fail again. I have had a death in the family and have been unable to begin studying again. I need my account open to begin to study for exam.
Add new comment