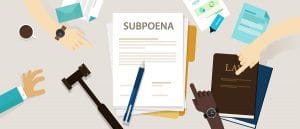 This week, our free MFT Law and Ethics exam and LCSW Law and Ethics exam practice question will focus on the topic of privilege. This is a topic that many test-takers struggle with as they prepare for the exam. This is in large part because it is more of an abstract concept. While you've likely had experiences with the vast majority of subjects tested on the law and ethics exams, most therapists, especially those earlier in their careers, have not dealt with subpoenas or court orders. And while practice makes perfect, or at least makes subjects seem less daunting, your knowledge of this subject can be perfected through our exam prep!
How will privilege appear on the exam?
There are several ways privilege can appear on the exam. Privilege is a legal concept; it is not addressed in your code of ethics. You may see questions that test your knowledge regarding the following:
exceptions to privilege

who is the holder of privilege

responding to a subpoena or court order

sharing privileged communications
Let's see how you do on this week's FREE practice question regarding privilege.
Practice Question:
A couple attended therapy for two years and after achieving their goals they terminated services. The couple has an amicable relationship and is co-parenting their children, but determined it would be best to divorce. The therapist receives a subpoena from the husband's lawyer to release records as part of the divorce proceedings. The husband also faxes the therapist a written authorization to release records. The therapist attempts to contact the wife, but is unable to reach her. Which of the following actions should the therapist take to manage the legal issues involved in this case?
A. Release the records since therapist attempted to contact wife and the couple has an amicable relationship.
B. Call the husband's lawyer and inform the lawyer that the therapist has not been able to successfully reach the wife
C. Call the therapist's professional liability insurance company's legal team for purpose of consultation
D. Invoke the wife's privilege until therapist receives release from wife or a court order
The correct answer is D.
The first thing being tested in this question is, who is the holder of privilege. In this case, the holder of privilege is the couple. This means the husband and the wife are equally responsible for deciding how the subpoena will be handled.
With this in mind, we can easily eliminate answer A. We cannot release the records without receiving written consent from the wife. This holds true regardless of the relationship between the couple.  They could be best friends and have an intact marriage and this would still be the case.
Answer B is not as clear-cut. However, we would not make contact with the lawyer and discuss our efforts to reach the wife. We would only respond to the subpoena, in writing, noting that we are invoking/asserting privilege insofar as it exists. We would not even acknowledge the wife was our client!
Answer C is another tempting answer, but it's unnecessary at this time. We don't need to seek consultation when it's clear what steps we need to take, which brings us to the correct answer.
Answer D is the strongest option available. If we do not know how the holder of privilege wants to respond to a subpoena, we would uphold their right to keep communications privileged.
Exam Preparation
Which answer did you choose? Does the rationale fit with your understanding of the topic and how you would apply it in a clinical setting? Or did you learn something new with this scenario? If you have any further questions feel free to check in with a TDC coach. We are here to support you all along the way. And if you came up with the same answer-great job! You are on the right track to getting licensed.
Still haven't signed up for an exam preparation program? Or have you already passed the exam and need to complete your continuing education requirements? Our structured, straightforward approach will provide you with exactly what you need!
Comments
Commenter Name
November 13, 2018
My answer is D. I can't assume that the wife is in agreement with the release of the information.
Commenter Name
March 4, 2019
I answered "D". I have done some study on client privilege and viewed both parties as equal holders of privilege. I can't believe I am answering so many questions correct but I can't and have not passed the LCSW test. So frustrating.
Add new comment