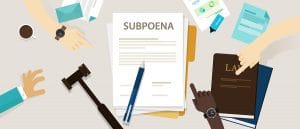 This week, our free MFT Law and Ethics exam and LCSW Law and Ethics exam practice question will focus on the topic of privilege. This is a topic that many test-takers struggle with as they prepare for the exam. This is in large part because it is more of an abstract concept. While you've likely had experiences with the vast majority of subjects tested on the law and ethics exams, most therapists, especially those earlier in their careers, have not dealt with subpoenas or court orders. And while practice makes perfect, or at least makes subjects seem less daunting, your knowledge of this subject can be perfected through our exam prep!
Social Work Exam Prep Programs
How will privilege appear on the exam?
There are several ways privilege can appear on the exam. Privilege is a legal concept; it is not addressed in your code of ethics. You may see questions that test your knowledge regarding the following:
exceptions to privilege

who is the holder of privilege

responding to a subpoena or court order

sharing privileged communications
Let's see how you do on this week's FREE practice question regarding privilege.
Practice Question:
A couple attended therapy for two years and after achieving their goals they terminated services. The couple has an amicable relationship and is co-parenting their children, but determined it would be best to divorce. The therapist receives a subpoena from the husband's lawyer to release records as part of the divorce proceedings. The husband also faxes the therapist a written authorization to release records. The therapist attempts to contact the wife, but is unable to reach her. Which of the following actions should the therapist take to manage the legal issues involved in this case?
A. Release the records since therapist attempted to contact wife and the couple has an amicable relationship.
B. Call the husband's lawyer and inform the lawyer that the therapist has not been able to successfully reach the wife
C. Call the therapist's professional liability insurance company's legal team for purpose of consultation
D. Invoke the wife's privilege until therapist receives release from wife or a court order
Share your answer and rationale in the comments section below and check back tomorrow for a discussion of the answer and rationale for this week's Law and Ethics practice test question.
To learn more about privilege (as well as all of the other topics you need to know for your MFT Law and Ethics exam or LCSW Law and Ethics exam), sign up for one of TDC's exam prep program to help you prepare for your exams today! Amanda Rowan has helped thousands of therapists and social workers pass their licensing exams. Are you our next success story?
Comments