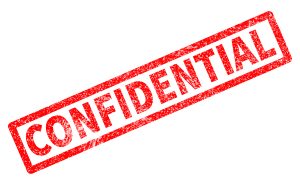 This week, our free MFT Law and Ethics exam and LCSW Law and Ethics exam practice question will focus on the topic of client confidentiality. Confidentiality is a key component of the therapeutic relationship. Without it, therapists would likely learn very little from their clients and it would substantially limit what could be achieved through psychotherapy. As therapists, we want our clients to feel safe in sharing the most intimate details of their life; information they may not feel comfortable disclosing to anyone else. Yet, confidentiality is not without limits.
How Will Confidentiality Show Up on the Exam?
The issue of confidentiality is so important to our profession that you are guaranteed to see questions about the topic on your MFT Law and Ethics exam, LCSW Law and Ethics exam, or your Clinical exam. So how can this confidentiality be tested? Following are just a few examples of how this subject can be tested:
What are our reporting requirements regarding child or elder/dependent abuse and neglect?
What are permitted exceptions to confidentiality and what should we do in these instances?
How do we manage confidentiality when engaging in group, family, or couples work
Let's see how you do on this week's FREE practice question regarding confidentiality.
Practice Question:
A therapist has been working with a 19-year-old female client who was brought to therapy five years earlier for an eating disorder. When the client began therapy, her parents consented to treatment and engaged in numerous collateral sessions with the individual therapist. The family also participated in ongoing family therapy. Following a sustained period of symptom stabilization, the mother calls the therapist because she is concerned the daughter is exhibiting troubling behaviors. She asks the therapist if the daughter specifically discussed regressive behaviors in recent sessions. How should the therapist respond?
A. Inform the mother that the daughter is legally an adult and the therapist must maintain confidentiality
B. Inform the mother that the daughter is legally an adult and she can only provide information the client has authorized the therapist to share
C. Break the client's confidentiality if the therapist believes the client is engaging in regressive behaviors
D. Break the client's confidentiality if the therapist is concerned for the client's safety
Share your answer and rationale in the comments section below and check back tomorrow for a discussion of the answer and rationale for this week's Law and Ethics practice test question.
To learn more about self-determination and client autonomy (as well as all of the other topics you need to know for your MFT Law and Ethics exam or LCSW Law and Ethics exam), sign up for one of TDC's exam prep program to help you prepare for your exams today! Amanda Rowan has helped thousands of therapists and social workers pass their licensing exams. Are you our next success story?
Comments