Animal Abuse Reporting
Several customers have reached out to me recently asking me about animal abuse reporting. Are we required to maintain confidentiality around animal abuse? Are we mandated to report? Does the severity matter? If you're preparing for your ASWB masters level LMSW or clinical level LCSW exams, you'll want to know the answer to these questions.
How to respond to animal abuse:
In our clinical practice, it depends on the state you're in. For the exam, you want to remember that the exams are national. So they won't test state laws. They do, however, sometimes offer the answer 'report according to jurisdictional regulations.' When you see this answer, it's a good one to go with. This is the exam's way of acknowledging that there are some laws (such as animal abuse reporting) that vary state to state. To 'report according to jurisdictional regulations' would mean reporting it if you're in a state that requires that, and maintaining confidentiality if you're in a state that requires that.
But

do

we report animal abuse?
In most states, we are not required to report animal abuse. And therefore, reporting it would be a violation of confidentiality. There are some states, however, that do require reporting. For example, Ohio recently passed House Bill 33 which requires licensed social workers (and counselors and MFTs) to report animal abuse when they become of this while engaged in work under their license.
How to answer on the exam:
As mentioned, on the exam you want to choose the answer to 'report according to jurisdictional regulations' if that is available. If that is NOT available (and the question stem doesn't specify whether the social worker is in a state where reporting is required), I would err on the side of maintaining confidentiality. This is because most states still require we maintain confidentiality around animal abuse.
ASWB Practice Question:
A social worker has been working with a client around managing their anger. In their most recent session, the client shares that after her dog had an accident inside the house last week, she became so mad she kicked him. She states, 'I feel like a horrible person and I'm worried I really hurt him. He hasn't been eating or going to the bathroom since then, and seems really lethargic.' What should the social worker do?
A. Make a mandated animal abuse report.
B. Reassure the client she's a good person.
C. Recommend the client to take her dog to the vet.
(Scroll for answer and rationale).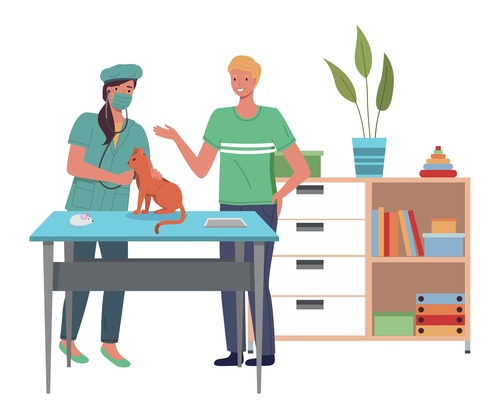 The correct answer is C: to encourage the client to take the dog to the vet. Due to the severity of the symptoms the dog is exhibiting, it is appropriate for the social worker to recommend the client seek veterinary care for the dog. A is incorrect because in most states animal abuse does not fall under our mandated reporting requirements.
ASWB Exam Prep:
Are you ready for questions you may see on animal abuse on your LMSW or LCSW exam? TDC is here to help you prepare for all aspects of the exam. From recall, to application, to strategy, we have a comprehensive exam prep to prepare you to PASS with CONFIDENCE. We've helped thousands of social workers pass their exams. Every customer is paired with a coach who you can email anytime you have questions as you go through the program. If you haven't already, sign up today. We're with you until you pass and NEVER charge for extensions.
Comments