Earn Your Wyoming Social Work License
If you live in the beautiful state of Wyoming and are interested in learning how to become a licensed social worker, you've come to the right place! Although very small in population, Wyoming still offers a lot of opportunities for social work jobs. First thing you'll want to do is connect with the Wyoming Mental Health Professions Licensing Board as they oversee the licensing process for the state, and will confirm you're on the right path. However, here we'll break down easy step to make it easy to understand as you work towards your WY LCSW.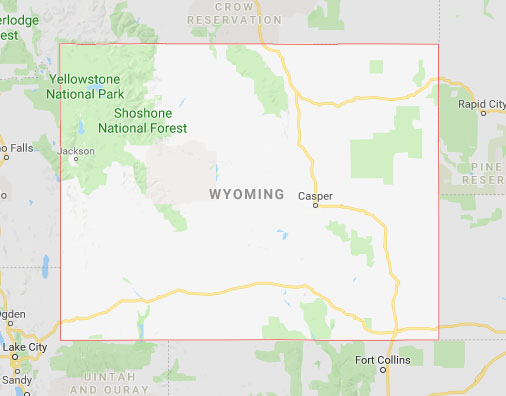 STEP 2 - Apply for your Provisional Clinical Social Work License
After you've graduated with your MSW, and before you can begin working as a social worker, you will need to have your provisional clinical social work license. To do this you will need to fill out the Wyoming provisional license application. This application includes:

Application fee of $150 (must be in the form of a check)
Proof of U.S. citizenship
Official MSW transcript sent directly to the Board
Three (3) professional references
Professional Disclosure Statement
State License/Certification Verification (if applicable)
Provisional License Supervision Agreement

Once you are approved by the Board, your license will be mailed to you and you can begin to accrue work hours.
STEP 3 - Accrue the Required Work Experience
In the state of Wyoming you are required to work 3,000 hours of supervised clinical social work overseen by a state-approved clinical supervisor.

Of these hours, 1,500 must be direct face-to-face practice with clients
A minimum of 100 hours of direct face-to-face supervision is also required, either individually or in a supervision triad (group supervision larger than three (3) does not meet this requirement)
STEP 4 - Pass the ASWB Clinical Exam with TDC and Apply for Licensure
When your hours are complete, the final step is passing the ASWB Clinical Exam. First you must contact the ASWB to pay the $260 registration fee and become eligible to test. Then you will go to Pearson VUE's website to find a test center in your area and pick your test date.
We recommend giving yourself a few months to study, and when you're ready check out our LCSW Exam Prep: ASWB Clinical Level. We've helped countless clinical social workers pass this exam on their first attempt and you're next! Our proven system uses a blend of audio, PDFs and mock exams to meet the needs of all types of learners. We give you only the information you need in a concise and organized fashion. Click on the link to learn more!
STEP 5 - Submit Your Wyoming LCSW License Application
Did you pass? Congratulations!! Only thing left to do is submit your LCSW Application. This includes:

$200 application fee (payment must be via check)
Completed Application
Verification and Evaluation of Supervised Experience
Official ASWB Clinical Exam Score Report
Acknowledgement that you have revised your Professional Disclosure Statement
And that's it! You should receive your license in 2-3 weeks, and are now a Wyoming Licensed Clinical Social Worker! Congratulations! You are about to embark on an impactful and inspiring career.