Earn Your New Mexico Social Work License
Looking to get your New Mexico social work license? Well you've come to the right place! Below we will outline each step needed for LCSW licensure in New Mexico, but remember, it's always a good idea to connect with the New Mexico Board of Social Work Examiners who review the social work applications, and the New Mexico Regulation and Licensing Board (NMRLB) who issues the licenses. That being said, we've got it all broken down for you in easily digestible pieces below, so let's get started…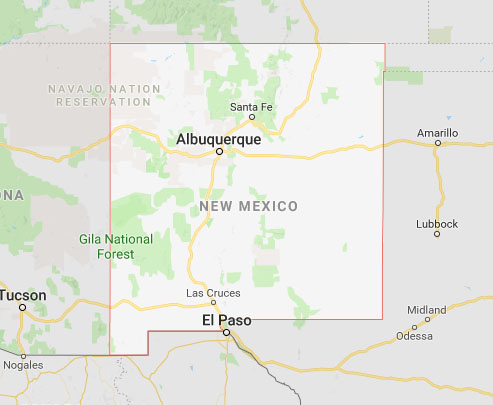 STEP 2 - Submit your LMSW application to the Board
The first thing you want to do is begin filling out the Masters Application for Licensure and submit it to the New Mexico Board of Social Work Examiners. This application includes:

$100 application fee.
Submit a recent 2x2 passport photo
Have your official CSWE-accredited University send your official transcripts directly to the New Mexico Board of Social Work
Take and pass (passing is 70% correct) the New Mexico Jurisprudence Exam included in the application.
Must complete and provide verification of one of the following:

A three credit hour course in New Mexico cultures listed on your school transcript
A Board approved course, workshop or seminar on New Mexico cultures
Proof of previously passing the New Mexico cultural examination

Two personal character references
The application must be notarized

Once you've completed the New Mexico LMSW application, submit it to the Board, and then…
STEP 3 - Register for the ASWB Masters Level Exam and Study with TDC!
Once New Mexico Social Work Board approves your application, reach out to the ASWB to register for the Masters Level Exam. Registration does include a $230 fee. Then contact Pearson VUE, find a location near you, and select your exam date.
And now it's time to start studying! Check out TDC's LMSW Exam Prep: ASWB Masters Level Exam program which provides you with an online system organized to give you exactly and only what you need to pass the exam. Using a blend of audio lectures, PDF documents, mock quizzes and exams, and access to our coaching staff, TDC will give you the edge you need to pass this exam on your first attempt.
STEP 4 - Gain the Required Work Experience towards your New Mexico Social Work License
Now that you have your New Mexico LMSW license, you are now eligible to accrue work experience towards your New Mexico Social Work license, or Licensed Clinical Independent Social Worker (LCISW).

The New Mexico Social Work Board requires each candidate to have 3,600 of supervised experience in no less than two (2) years from when they received their LMSW.
The Board also mandates you accumulate and document 90 hours of supervision during the 3,600 required practice hours. At least one hour of supervision must be documented for every 40 hours worked.
STEP 5 - Register for the ASWB Clinical Level Exam and Start Studying!
Once you've completed your 3,600 hours, it's time to take the Clinical exam. Just like you did for your Masters, contact the ASWB to register and Pearson VUE to select your location and date.
Then sign up for TDC's LCSW Exam Prep: ASWB Clinical Level Exam program and prepare with the best program on the market. If you've used us for the Master Level Exam, then you know you're in good hands with TDC. We've helped tens of thousands of social workers pass their exam, and you're next!
Did you pass? CONGRATULATIONS! You've earned your New Mexico Social Work License & will receive it shortly from the New Mexico Regulation and Licensing Board!
Welcome to the world of clinical social work in New Mexico. Your hard work and perseverance has paid off. Give yourself a pat on the back, you deserve it.