Earn Your New Jersey Social Work License
Did you know that social workers in New Jersey are some of the highest paid in the country ($60,000/year)? In addition, the state's population continues to grow, and social work jobs in New Jersey are steadily increasing with opportunity. So, if you want to become an LCSW, then here we'll walk you through the process. Also, we recommend contacting the New Jersey State Board of Social Work Examiners to ensure you're meeting all the necessary requirements.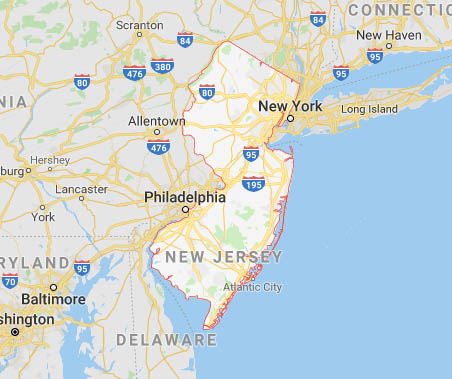 STEP 2 - Become a Licensed Social Worker (LSW)
Once you hold your MSW degree, the first thing you'll need to do is obtain your LSW license so you can begin to accrue work hours. And the first step in this is filling out the LSW state application. Included in this application are:

Completion of a Certificate and Authorization Form for a Criminal History Background Check.
An official transcript from the candidate's college or university
Past and current social work experience
$100 application fee

Either before or after you submit the application, you will also need to pass the ASWB Masters exam, so contact the ASWB to register. Then go online with Pearson VUE, find a test center, and select your test date.
Then if you want the best chance at passing this exam on the first attempt, use our LMSW Exam Prep: ASWB Masters Level prep program. Click on the link to see what's included in the program and read what others have said about TDC. Our promise to you is we're with you until you pass!
Then once the application has been submitted and you've passed the exam, you'll have earned your New Jersey LSW license.
STEP 3 - Get to Work! Start Earning Qualifying Hours Toward Clinical Licensure
Now as an LSW, to earn your New Jersey social work license you will need to gain the required supervised experience of 1,920 hours or two (2) years of full-time social work.

This experience must be face-to-face with clients
Supervised experience must be completed within three (3) years of gaining your LSW license
STEP 4 - Complete the LCSW Application and Take the Exam!
Once you've accrued your qualifying hours, fill out and submit the LCSW state application for your New Jersey social work license. Within this application you will need to include:

A non-refundable $75 application fee
Complete the Certificate and Authorization Form for a Criminal History, and have your fingerprints taken at a New Jersey fingerprinting location
You will need to show you've completed 12 graduate-level credit hours in clinical social methods, plus 12 credit hours in human behavior and social environment, diagnosis and assessment in social work practice, models of psychotherapy or clinical practice, clinical supervision, and intervention with special populations
Provide information on educational and professional work experience

Then it's time to take the Clinical Exam. Just like the Masters exam, connect with ASWB and Pearson VUE to register and select your location/date.
Once you have your date, come back to TDC and purchase our LCSW Exam Prep: ASWB Clinical Level exam prep program. We offer a unique approach that shifts studying away from memorization, and focuses rather on how to think about the exam and analyze each question to understand what it's asking for. We have an incredible success rate (95%!) helping our clients pass on the first attempt. Click on the link to learn more.
You passed!!! CONGRATULATIONS! You are a now a New Jersey LCSW! On behalf of TDC, we wish you all the best in a wonderful career helping others.