Earn Your New Hampshire Social Work License
If you're interested in pursuing a career is social work in the state of New Hampshire, compared to other states, the process is relatively simple. We'll walk you through that here, but as always, it's a good idea to check with the New Hampshire Board of Mental Health, as they are the ones who regulate the licensing process for the state.
The only New Hampshire social work license to pursue in the state is the Independent Clinical Social Worker license (LICSW). Some social work jobs do not require this license, but if you wish to provide psychotherapy services, you will need to get this credential. This license will also allow you to pursue the various subfields, including child, family and school social work, mental health and substance abuse social work, and healthcare social work.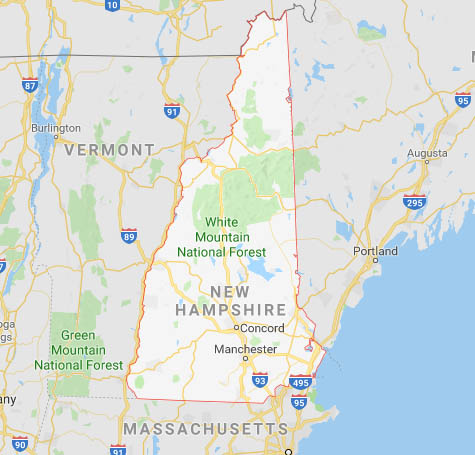 STEP 2 - Submit Advisory Agreement and Gain Social Work Employment
Once you've received your MSW, and are ready to accrue work hours, the first step is to complete find a supervisor and complete the Supervisory Agreement Form and submit it to the Board. You will need to complete this form with your clinical supervisor, and it includes a $25 processing fee.
Next it's time to get to work! In the state of New Hampshire, you will need to complete a total of 3,000 hours of supervised clinical social work in a two (2) year period, with at least one (1) hour per week of face-to-face supervision (totaling 100 hours).
STEP 3 - Apply for the New Hampshire Social Work License
When you have completed your hours, you will then fill out and submit the NH LCSW state application. With this application you will need to include:

A completed application booklet, passport style photo, and resume.
A non-refundable $150 application fee.
A completed Summary of Supervised Clinical Experience form.
A completed Supervisor's Confirmation of Clinical Experience form that has been filled out and placed in a sealed envelope by the supervisor and sent directly to the Board. The supervisor must also complete a professional reference form.
Three (3) Professional Reference form signed and sealed by each reference, and one (1) must be your clinical supervisor.
Official transcripts from your CSWE-accredited school sent directly to the Board.
Proof of passing the ASWB Clinical exam (see more below).
Criminal Offender Record Report from each state you have resided and/or been licensed in.
If you are licensed in another state and transferring jurisdiction, complete a License Verification form signed and sealed by that state (if applicable).

You will finally need to complete the Request to Sit for ASWB Exam form. This form must be completed and approved, before the final step…
STEP 4 - Register for the ASWB Clinical Exam and Study with TDC!
When you're ready to take the exam, connect with the Association of Social Work Boards (ASWB) to register for the exam and pay the $260 registration fee.
Then contact Pearson VUE to actually select your test date and find a test center that is convenient to you.
And finally, connect with Therapist Development Center! Our LCSW Exam Prep: ASWB Clinical Level program will help you pass this exam with flying colors. We use a proven method based on the neuroscience of learning, that shifts the focus towards how to think about the exam and develop test taking strategies. No need to spend countless hours trying to memorize unnecessary information. We also have coaches on standby ready to answer your questions and ease anxiety as the test date approaches. Click on the link above to learn more and hear what other users have to say.
Did you pass? CONGRATULATIONS!! You are now a New Hampshire Independent Clinical Social Worker! Make sure to take time to celebrate your achievement, as you deserve it! From all of us here at TDC, we wish you the best in your new career.