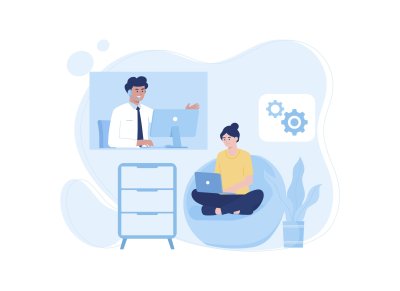 Telehealth: Overview of Law & Ethics (3 hours)
Price: $36.00
ABOUT THE COURSE:
As telehealth continues to grow, mental health professionals must be well-versed in the legal requirements and ethical codes to ensure the standard of care is met.  This course invites participants to join Amanda Rowan, LCSW, and Michelle Seely, LMFT, as they take a deep dive into telehealth's legal and ethical considerations. Upon completing this course, participants will have a foundational understanding of the legal and ethical issues related to the provision of telehealth services. This course is appropriate for clinicians in all 50 states and is a requirement for mental health professionals in California.
INSTRUCTORS:
Amanda Rowan is an LCSW and the founder and CEO of the Therapist Development Center. Amanda graduated with honors from Dartmouth College, where she majored in Neuroscience. She earned her Master of Social Welfare degree at UCLA. Since founding the Therapist Development Center in 2008, Amanda has prepared more than 50,000 therapists nationwide to pass their state licensing exams.  She is a certified Gestalt Therapist who has worked with a wide variety of clients in various settings over the past 20 years.  She is a highly effective instructor with a passion for collaborating with seasoned therapists who understand what works because they do it daily.  
Michelle Seely (LMFT) is a licensed therapist with a private practice in Los Angeles. She is an experienced teacher of gestalt and meditation and has trained and supervised licensed therapists and associates in the US and internationally. She has served on the core faculty at the Pacific Gestalt Institute for over a decade. She is a contributing author to the academic anthology, The Relational Heart of Gestalt Therapy (Routledge 2022). She was trained to teach Mindful Self-Compassion (MSC) by the program's developers, Kristin Neff, and Chris Germer, and has taught privately and with InsightLA Meditation. She is president emeritus of the Gestalt Therapy Institute of Los Angeles (GTILA), where she also served on the executive board for eight years.
WHO SHOULD TAKE THIS COURSE:
This course is appropriate for mental health clinicians at all levels of experience who utilize telehealth in their practice. This course meets the 3-hour telehealth training requirement for the California BBS.
Therapist Development Center, provider 1449, is approved to offer social work continuing education by the Association of Social Work Boards (ASWB) Approved Continuing Education (ACE) program. Organizations, not individual courses, are approved as ACE providers. State and provincial regulatory boards have the final authority to determine whether an individual course may be accepted for continuing education credit. Therapist Development Center maintains responsibility for this course. ACE provider approval period: 5/30/21-5/30/24. Social workers completing this course receive three continuing education credits.
*This course fulfills the NEW California BBS telehealth requirement. The BBS accepts courses approved under ASWB ACE for all licensees in California.
LEARNING OBJECTIVES:
Define telehealth

Describe the legal and ethical requirements of telehealth

Identify the eight ethical domains impacted by telehealth

Implement an ethical social media usage plan
COURSE OUTLINE:
Definition of Telehealth

Laws vs. Ethics

Legal Requirements for Telehealth Training

Why read the CodeS of Ethics

8 Ethical Domains Impacted by Telehealth

Self-Determination/Client Autonomy

Determining Appropriateness of Teletherapy

Informed Consent

Ensuring Competence

Privacy and Confidentiality

Treatment Disruption

Termination of Services

Impact of Values and Potential Conflicts

Guidelines for Ethical Social Media Usage

Legal Requirements - Initial and Ongoing 
REGISTRATION: Please register online at www.therapistdevelopmentcenter.com  
HOW TO ACCESS THIS COURSE: Once registered, participants can download the course handouts and listen to recorded audio lectures. 
Price: $36
CERTIFICATE OF COMPLETION: The participant can print their certificate of completion immediately after receiving a score of 80% or better on the posttest and completing the course evaluation.
CANCELLATION POLICY: If you contact us before listening to the audio, you will receive a tuition refund less a $10 cancellation fee.
GRIEVANCE POLICY: Your satisfaction is our goal. If you have any grievances, please email help@therapistdevelopmentcenter.com  
ADA Needs: We are happy to accommodate your ADA needs; please email: help@therapistdevelopmentcenter.com 
CONTACT INFORMATION: Therapist Development Center: 
Reviews
Rosa Isela Diaz
,
Santa Ana, California
Marina Ovanessian (Oversight Committee)
,
Glendale, California
Another great course from TDC! The audio style helps the audience to engage and follow along. These instructors help make the material understandable and explain in detail any technical or jargon terms used. The handouts are also a nice complement to the audio material.
Elaine Gee-Wong (Oversight Committee)
,
Los Gatos, California
This was a great overview of the use of telehealth. I liked how it started out with a discussion of law and ethics and then used that as the frame in which to discuss the concerns and responsibilities we have when using telehealth. This course helped me think about some issues in a different way, and the last section containing practical applications was especially helpful. Overall, this was a very thorough class about telehealth concerns that we, as clinicians, need to be aware of and address, especially after COVID changed the landscape of our practices so drastically.